Published 15.09.2022
It's not a coincidence that Dublin's most beautiful high-end apartments are located at the capital's most exclusive and sought-after address.
The Shelbourne Collection at Lansdowne Place was specifically developed to offer not just Ireland's finest living spaces but also its finest living experience.
Situated in the heart of the leafy Victorian Embassy Belt, just minutes from both the Silicon Docks and the city's cultural and commercial heart, these exceptional homes bring stunning high-end modern design and exquisite finish to Dublin's most desirable living zone.
THRILLS OR TRANQUILITY? YOUR CHOICE ENTIRELY.
It's a cliché because it's true: for many buyers location is the most important decision. But even if money is not an issue, it's not as obvious a decision as it first appears.
If you decide on peaceful period elegance in the suburbs or beyond, are you banishing yourself from the culture, entertainment and social life of the city, or condemning yourself to a painful commute? If you go central and modern, will you find yourself yearning for quiet, space and nature?
Of the many exceptional features of the Shelbourne Collection at Lansdowne Place, perhaps the most compelling is its unique blend of calm, conviviality, and convenience.
You're in the centre of Dublin 4, the capital's most exclusive and coveted postcode, adjacent to the historic Royal Dublin Society and beautiful Herbert Park, the serene river Dodder, the stately Grand Canal and the magnificent sweep of Dublin Bay.
But you're also just 15 minutes' walk from the city's finest restaurants, its most vibrant artistic and entertainment venues, its tech and commercial hub, and its most fashionable shopping streets – and just 30 minutes' drive from Dublin Airport.
Whether you crave serenity or the social whirl, there is no more perfect place to live.
TRULY TOP DRAWER DETAILS.
Slide open a drawer in the spacious custom-designed kitchens, and you'll see something you won't find in other luxury developments. Each drawer has been lovingly hand-crafted in walnut with perfect dovetail joints by master joiner John O'Connor.
"We didn't want to just be like some off-the-shelf development, with Cookie Cutter detailing", explains project lead Bryce Robertson, "we searched really hard for suppliers who could deliver the look, feel and finish we were after."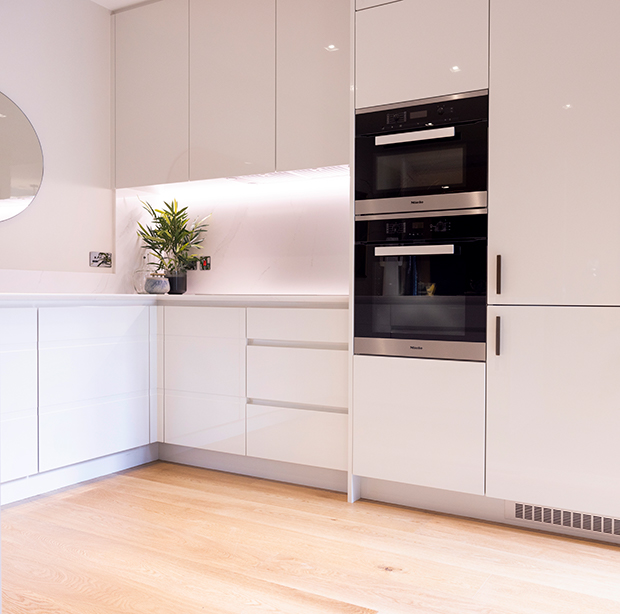 Custom-designed kitchens at Lansdowne Place.
Place Those walnut drawer boxes are just one of many thousands of tiny but significant decisions the development team made in designing and building the apartments of the Shelbourne Collection, seeking out and working with scores of the finest local and international craftspeople to execute every facet to the most exacting standards in each of the naturally ventilated and light-filled homes.
"Pretty much every interior detail here is bespoke."
GREENER LIVING, DEEPER ROOTS.
People are sometimes surprised to learn that Ireland's most exclusive homes are also among its most environmentally harmonious, inside and out.
The Shelbourne Collection is not only energy A-rated throughout, but also uniquely surrounded and inspired by nature.
Although just a short stroll from Dublin's buzzing centre, our landscaped campus is home to some of the most exotic flora ever to bloom in Ireland.
Lansdowne Place stands on the former site of Trinity College's Botanic Gardens, and great care has been taken to preserve as many as possible of these wonderful specimens within our grounds.
When creating the signature sculpture, 'The Keepsake', which greets you in our courtyard, artist Rachel Joynt was inspired by one of our more unusual specimens, the Strawberry Tree.
And if you ever want to take in more of nature's bounty, just five minute's stroll from our own magnolia, eucalyptus and wingnuts sits one of South Dublin's most beautiful and beloved green spaces, Herbert Park.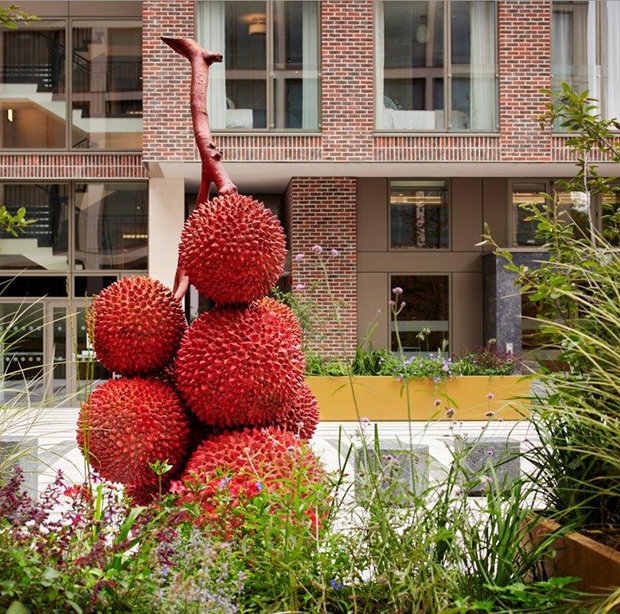 Signature sculpture, 'The Keepsake – Greener Living – Deeper routes.' Lansdowne Place.
THE PERFECT GUARD, GUIDE, AND GREETING.
Oscar is a Westie-Bichon Frise cross, not a Rottweiler. But as his owner, our Head Concierge Liam Guerin says, keeping the residents IN Lansdowne Place safe from unwelcome visitors is only one of many duties.
"There are so many things that we do that you can't put in a brochure", from organizing dry-cleaning and fridge-stocking when you're arriving back late from holidays to advising on the best place in Ireland to find a bottle of rare Whiskey.
"It's kind of my forte", says Liam. Having spent 20 years as front of house in one of Ireland's best restaurants (he'll be happy to secure you a table) before he joined the Lansdowne Place team, he made it his business to research the service offered by concierges in leading developments in London and New York: "I saw all the things that clients expect – and also some things I thought we could do better".
"It's someone at the end of the phone 24/7 and it's doing that bit extra, too."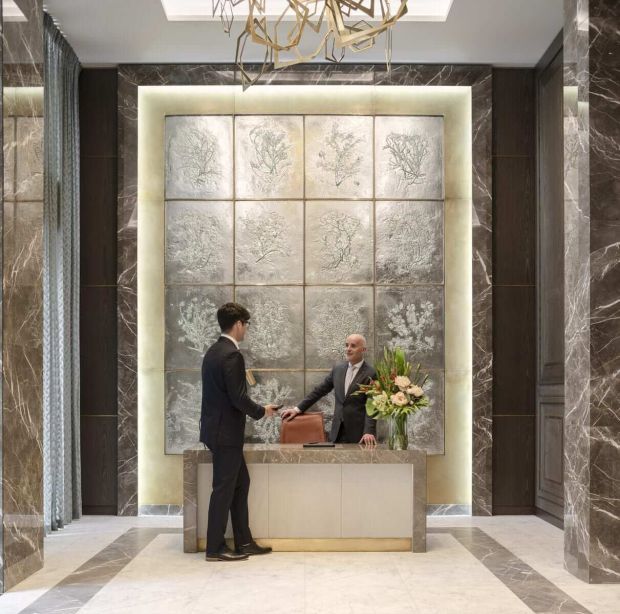 The head of concierge services, Liam Guerin, pictured at his desk in the lobby of Lansdowne Place.
YOU CAN'T DESIGN FRIENDSHIP – BUT YOU CAN DESIGN FOR IT.
When the creators of Lansdowne Place were planning the Shelbourne Collection, they weren't just seeking to build a world-class luxury development; they were also creating a space for a new community.
Space being the operative word. As Liam puts it, "We knew some people would want more social interaction, and some people wouldn't."
But even he has been surprised by the speed at which casual daily encounters between residents in the many shared areas and amenities have blossomed into friendliness, and often friendship.
"It's happened very organically. People meet in our gym, or host parties in our communal function rooms, or share a coffee or a glass of wine in the courtyard. We're our own little community within the neighbourhood".
And with many of Dublin's most renowned restaurants, sporting facilities and cultural venues within walking distance, the social opportunities for all home-owners are limitless.
WHERE YOU AND YOUR INVESTMENT CAN BOTH FEEL SAFE.
The sense of security you feel when you get the keys of your exquisite new apartment in the Shelbourne Collection isn't just down to the watchful eye of Liam and his team.
You can also rest easy knowing that the unique combination of your home's stunning design and incomparable finish, its world-class concierge service and facilities, its true sense of community, and its location in the heart of Dublin's most fashionable and convenient residential area means it will always be the most valued and valuable of assets.
Buying into the Shelbourne Collection is a decision that you'll never regret, financially or personally.
For further information:
Please get in touch