Published 21.05.2020
So much heart and soul has gone into delivering the new luxury apartments at Lansdowne Place and now the torch has been handed over to the very capable Liam Guerin, Head of Concierge Services & General Manager who along with his team are now looking after the residents already living there as well as getting ready to welcome new residents as they move into their luxury home in Lansdowne Place this year.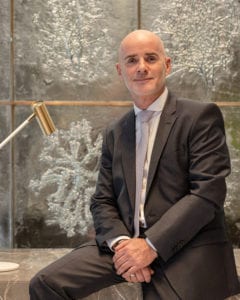 As Head of Concierge Services & General Manager of Lansdowne Place, Liam Guerin is the 'face and personality behind Lansdowne Place' which offers a unique lifestyle/24-hour concierge service for residents in this new Dublin development as well as the world class residents' amenities that have been delivered for their use. After 25 years as restaurant manager at local landmark Roly's Bistro, Liam is a familiar face to many Dublin 4 residents, and this made him the perfect choice for running the concierge team and 6,500 sq. ft. Residents' Suite at Lansdowne Place.
Over the last two months Liam has been doing a fabulous job looking after the current residents who are already living in Lansdowne Place. Liam and his team have been in daily contact with the residents, Looking out for their wellbeing and ensuring medical and other deliveries are made safely and on time!
A steady stream of recipes, games, yoga, fitness and audio books are being issued through our inhouse communication system, which is linked to each apartment. Liam has also arranged hot meals from local restaurants and has surprised each of our residents with treats of chocolate and cakes.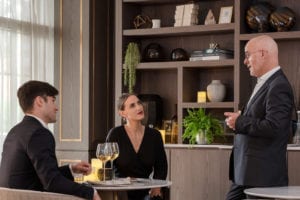 Liam has moved furnishing around to enable the residents to use the outdoor courtyard for safe social distancing and community interaction. Every effort is being made to ensure the safety and wellbeing of residents.
The importance of creating a sense of community within a community is a key feature of the development and the unique concept that has been delivered. As with anything, it's the people who make it. Be it a cinema night, yoga and mindfulness or book and wine clubs, Liam and the concierge team are eager to cultivate the type of community that residents' want so that they can deliver the best living experience. This was especially relevant over the last couple of challenging months where there was a coming together of community spirit, supported and cultivated by Liam, ensuring all residents felt connected and part of something special.
Read more about the facilities and amenities at Lansdowne Place