Published 23.11.2016
Premises on Berkeley Court site comes ahead of 215 apartments due to be built in 2018
(The Irish Times)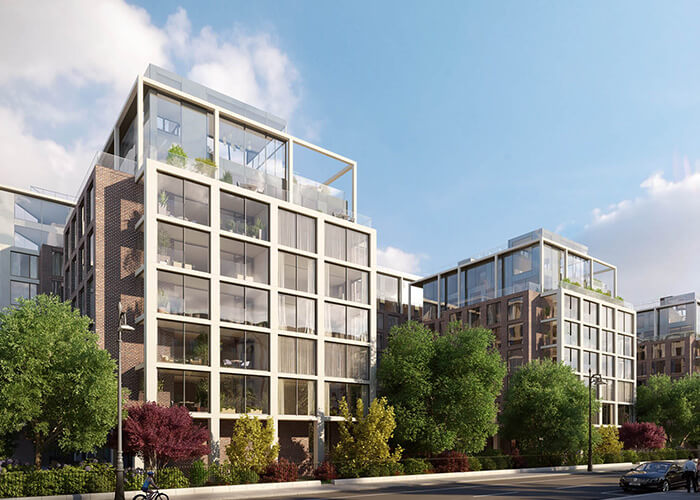 A computer-generated image of the Lansdowne Place scheme as seen from Lansdowne Road
To anyone passing along Lansdowne Road in Dublin 4 lately, progress on the residential development site of the former Berkeley Court Hotel seems particularly advanced.
Chartered Land's luxury apartment scheme appears to have sprung up unexpectedly fast. But before you start pulling out the cheque book, the Block learns this is simply the marketing suite for the 215 apartments beginning construction behind it and due for completion in 2018.
Located behind a bank of mature trees on the corner of Lansdowne Road and Shelbourne Road, the marketing suite is expected to be completed by spring 2017.
Three levels
It will extend to about 604sq m (6,500sq ft) of accommodation over three levels and up to 14 metres in height. Once the apartments have been sold, the O'Mahony Pike-designed block will be dismantled and the area landscaped as part of the Lansdowne Place development – the official name of the scheme.
The marketing suite will comprise an entrance lobby and marketing reception area at ground level, a two-bed show apartment at first-floor level and a three-bed penthouse apartment at second-floor level.
The structure also comprises associated terraces, balconies, and a viewing deck at roof level.
Pedestrian access to the temporary marketing suite will be from Lansdowne Road. The developer says it also plans to retain the mature boundary trees and iron railings along Lansdowne Road which date back to the mid-1800s.
O'Mahony Pike designed the entire scheme, and Merrion Contracting will complete the marketing suite. The main contractor, JJ Rhatigan, is currently completing the basement car park.
The selling agents for Lansdowne Place are Savills and Sherry FitzGerald.
The Irish Times, Wednesday, Nov 23, 2016, 15:15
This article originally appeared in the Irish Times